Check Out This Awesome Lunch Box (Giveaway)
Snack Girl is not materialistic, but she does love GEAR. Especially food related gear that will support healthy eating habits.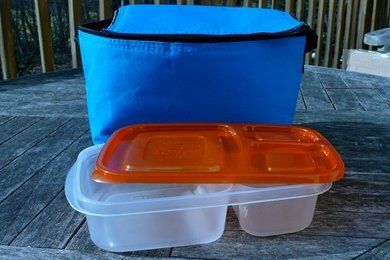 One great habit that will save you a TON of calories every day is bringing your lunch to work or school. For example, the amount of mayonnaise that you would put on your sandwich is probably very different than a purchased version.
You will also save money if you bring your lunch and no doubt it will be healthier.
My pal, Kelly, came up with an Easy Lunch Box that makes lunch, well, easy! The idea is that you put your food in different compartments to jazz things up.
See below: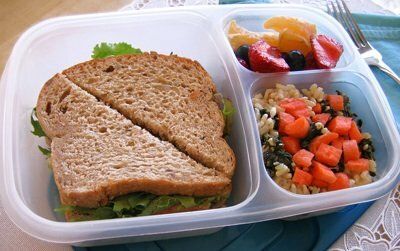 BPA free, easy to use and wash, and GREEN these lunch boxes are a life saver for busy people. You get four containers in a pack so you won't have to wash it every day for reuse.
And, my pal Kelly is also very entertaining. She is a singer and has done a number of videos singing about..well.. lunch! See Let's Do Lunch, where Kelly sings and dances with celebrity guests and lunch boxes.
Snack Girl is giving away one Easy Lunch Box to a random entry. Visit Easy Lunch Boxes and comment below on your favorite color lunch bag and how you would use your lunch box.
Or BUY one here:
Snack Girl has an affiliate relationship with Easy Lunch Boxes. A percentage of the click through sales from the above small advertisement does go to Snack Girl.
---
What will I win?

One container set and one lunch bag (you choose the color). Retail value is $21.90.
How do I enter?
Visit Easy Lunch Boxes and comment below on your favorite color lunch bag and how you would use your lunch box.
Additional Ways To Enter:

Follow Snack-Girl on FaceBook. Comment on your favorite color lunch bag and lunch box use.

Follow Snack-Girl on Twitter and Tweet this post (use the Tweet Button in the Share Box at the top of this post).

Snack-Girl can follow and count all the additional entries using magical website tools.
Am I eligible to enter?
This giveaway is offered to US & Canadian residents only. Please do not enter this giveaway if you have won or received free product from EasyLunchboxes within the past 3 months.
When do I find out if I am the winner?
The winner will be announced on April 29th, 2011. You will have 2 weeks to e-mail us back with your home address so we can mail the prize.
Want to read about snacks?
Try This Healthy Pie.....Naked
Love Breakfast Sausage but Hate Jimmy Dean? Try This!
Can Domino's Deliver A Healthy and Tasty Meal?
Green Thing...You Make My Heart Sing