You Need This Lunch Box - Give Away from EasyLunchboxes.com
I am ALWAYS looking for ways to make my morning easier and to be green. I pack two lunches per day for my kids, and I use many different containers to give them variety (apple sauce, carrot sticks, crackers, grapes, raisins, etc.)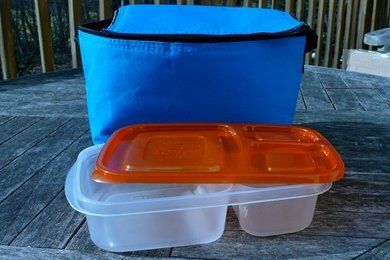 Easy Lunch Boxes are designed to make it easy to pack a lunch. It features a good sized, BPA free, dishwasher-safe, plastic container for packing a lunch.
Snack-Girl is giving away 4 containers and the Aqua Lunch Bag from Easy Lunch Boxes.
The total cost of the lunch box (bag and containers) is about $22, and you get 4 containers with that. This set is much less expensive than many bento box lunch sets.
I think this lunch box would also work for adults and force you to pack more interesting lunches. I know we all get into ruts and start supplementing our healthy food with junk food from vending machines.
This container would help you stop the impulse. You don't need to buy the lunch bag - you can just toss the container in your briefcase, backpack, or gym bag.
What would you put in your new EASY lunch box?
---
What will I win?
The lunch box and four plastic containers to put in it photographed here from: Easy Lunch Boxes
How do I enter?
Comment in the box below about the lunch you would put in this box.
Additional Ways To Enter:

Follow Snack-Girl on FaceBook and comment on Snack-Girl's wall about your lunch for the new lunch box.

Follow Snack-Girl on Twitter and Tweet this post (use the Tweet Button in the Share Box at the top of this post).

Snack-Girl can follow and count all the additional entries using magical website tools.
Am I eligible to enter?
Anyone with a valid e-mail and a U.S. mailing address is eligible.
When do I find out if I am the winner?
The winner will be announced on February 4th, 2010. You will have 2 weeks to e-mail us back with your home address so we can mail the prize.
---
Want to read about snacks?
How to Replace Butter without Sacrificing Flavor
How to Eat More Vegetables
A Dip that Won't Kill You
Quick and Healthy Pizza