THE Valentine's Day Treat
You can't walk into any store right now without being bombarded with chocolate. The lovely heart shaped boxes in red just sing out - BUY ME!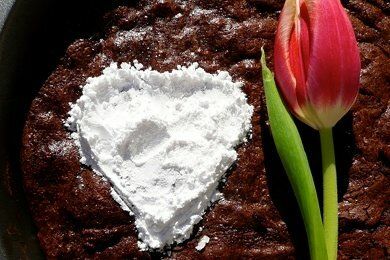 Sadly, Chocolates can be over 160 calories each (yikes!).
Don't do it! Instead, take the time to bake. Baking is a wonderful way to enjoy chocolate. You can make something heavenly and worth spending the calories on. Also, if you have a sweetie, they will love you even more if you make your home smell good.
One of the simplest, and most delicious chocolate confections is flourless chocolate cake. It is moist like a brownie, but less chewy.
Just like the Chocolate Chip Cookie Recipe, this recipe is easy and makes for a wonderful TREAT. You should be able to get 10 slices out of this small cake because it is super rich.
The great thing about the recipe below is that you only use 2 bowls (one for the cake, and one for your eggs) and one pan. Clean up is effortless and it is fast to make.
You have to be careful when you are heating chocolate. It will seize up and become inedible if it is heated too hot (been there and done that - bummer).
So, the most important step is melting the chocolate carefully over the water. Once you do this, it is like any other cake recipe, except easier because you don't even need a mixer.
A note about flipping the cake out of the pan - I was not successful when I made it so I just left it there. I have always found it to be tricky, unless I butter and flour parchment paper for the bottom of my cake. I was too lazy (remember Snack Girl should be named Lazy Snack Girl) to include this step.
Chocolate is also pretty good for you see: Healthy Chocolate. Obviously, the calorie value does not make this a healthy snack - but it is a wonderful Valentine's Day treat.
What will be your treat this Valentine's Day? Please share!
---
Flourless Chocolate Cake Recipe

(Makes 10 small slices)
4 (1 ounce) squares semisweet chocolate
1/2 cup butter
3/4 cup white sugar
1/2 cup cocoa powder
3 eggs, beaten
1 teaspoon vanilla extract

Preheat oven to 300 F. Grease an 8 inch round cake pan and dust with cocoa powder. If you want to ensure the cake comes out then cut a circle of parchment paper for the bottom and grease and dust with cocoa powder. Put chocolate and butter in a metal or glass bowl over a pan of simmering water or use a double boiler to melt the chocolate and butter. The second the chocolate melts, remove from heat. Stir in sugar, cocoa powder, eggs, and vanilla. Pour into pan and bake for 30 minutes. If removing from pan, let cool in pan for 10 minutes and turn out onto wire rack.
223 calories, 14.5 g fat, 24.7 g carbohydrates, 3.0 g protein, 2.0 g fiber, 86 mg sodium, 7 Points+
Want to read about snacks?
Panini Extreme Makeover (Take THAT Quiznos!)
Simply Lovely Valentine's Day Breakfast
The Benefits of Cheese Sticks
The Truth About Energy Shots