Give Me Three Ingredients and I'll Give You Amazing Salsa
If you are like me (and, hopefully, you are not), you can't create recipes on the fly. Snack Girl is mired in lists when she goes to the grocery store.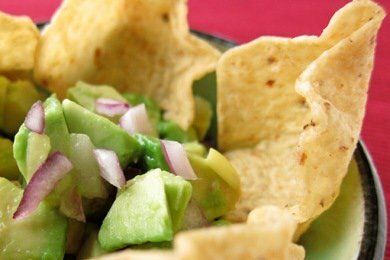 Some people can just create great food by seeing what is fresh and knowing how to create amazing taste combinations. I have met these people (one of whom worked for Rachel Ray) and they blow my mind.
(and, yes, Snack Girl loves shameless name dropping)
My memory isn't very good, but even I can remember three ingredients. This avocado salsa is made with just an avocado, red onion, and lime (and salt which you don't need to remember because I am sure you have it).
It is so simple and delicious and you can remember it when you go to the store (bonus!).
Of course, I really love the fresh salsa with tomatoes, onions, cilantro, and chiles - but, tomato season is months away and I will NOT make sub-par salsa.
My kids ate this avocado salsa - which shocked me because I thought the onion was going to turn them off. It was sitting on the counter after my photo shoot and they just devoured it and demanded more. But, there was no more.... :(
And now, for an exciting change of pace, I am going to say something nice about Frito-Lay. Last year I flamed them with this post: What Everyone Needs to Know About Tostitos.
A reader then pointed out to me that Tostito's SCOOPS are great because you can get a lot of healthy salsa on the chip and you eat fewer chips and more salsa.
Basically, the scoop is a delivery device for healthy vegetables (like pizza) and I have to agree. You can scoop a good serving of the healthy stuff on these chips so I have decided to give them the Snack Girl stamp of approval (which comes in blue).
Just don't eat them without anything else because then they are just empty calorie chips.
Have you made a three ingredient salsa? Please share.
---
Avocado Salsa Recipe

(2 servings)
1 avocado
1 medium red onion
1 lime
salt (to taste)
Chop 1/4 cup red onion and avocado. Mix in bowl and squeeze one lime over mixture. Salt to taste and serve immediately.
One serving without chips: 176 calories, 14.8 g fat, 13.4 g carbohydrates, 2.4 g protein, 7.9 g fiber, 100 mg sodium, 5 Points+
Want to read about snacks?
Fastest, Easiest, and Tastiest Guacamole
Replace French Fries with This Easy and Healthy Snack
Try This: Vegan Toast
Now You Can Eat A Banana Split Without Splitting Your Pants