How To Make A Healthy Cake Pop
Snack Girl is a mother of a first grader who is now reading. Yesterday, she decided to read the newspaper where there was a feature on something called "Cake Pops".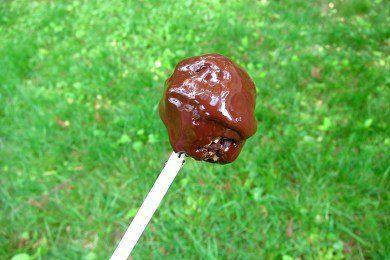 "Let's make cake pops today, Mommy!", said the cute little girl. That sounded fun until I read the description of how to make a cake pop. argh.
Cake Pops were created by a food blogger named "Bakerella" and her book is a bestseller. You bake a cake, crumble it, mix it with frosting, make little balls, refrigerate, stick the balls on popsicle sticks, dip into a melted candy coating, and refrigerate again.
Do I look like I can handle all those steps?
And then there was all the GEAR. I needed 4 inch lollipop sticks and a cake pop stand. What on earth is a cake pop stand? (and there is a "cake pop maker" that will bake little balls of cake for you in four minutes!)
So, I put on my "Snack Girl" cape and started innovating. First of all, I have this GREAT recipe for No Bake Brownie Balls that would work on a stick. No baking, crumbling, or mixing with frosting.
For the sticks, I am lucky that I live near a crafts store (people in the middle of nowhere make LOTS of crafts). They had 4-inch lollipop sticks (see below) for $1.99.
The cake pop stand was easy because I save styrofoam blocks because I can't bear to put them in a landfill. See here: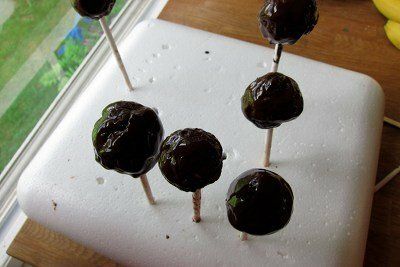 Finally, the candy coating would have to be dark chocolate. First, because I LOVE the stuff and, more importantly, I keep some in my house for emergencies.
My cake pop steps:
Stick them on a lollipop stick
Dip them in melted chocolate
Refrigerate
SO ridiculously easy and it worked! My kids loved them, though I will warn you that this is SUPER MESSY. A curtain in my house got a chocolate rub that it didn't need :)
I think it would be fun to dress it up with some M&Ms or jelly beans for a "party" cake pop.
They are very rich and lasted in my house for three nights as dessert.
Have you tried to make cake pops?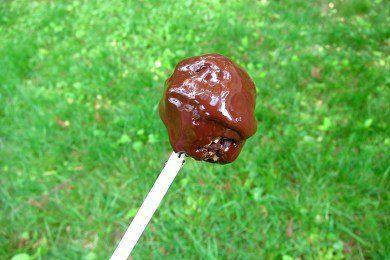 Healthy Cake Pop Recipe
(15 balls)
Ingredients
1 cup roasted almonds (no salt added)
15 pitted dates
2/3 cup unsweetened cocoa powder
1 tablespoon honey or maple syrup
2 tablespoons water
4 ounces dark chocolate
15 4-inch popsicle sticks
cake pop stand or styrofoam block
Instructions
Add almonds to food processor and pulse until ground. Add dates, cocoa powder, honey, and water. Mix until it just forms a sticky mass. Wash hands and attempt to make a ball with the dough (it may need more water to get to the perfect consistency).
Melt chocolate in small bowl in microwave. Stab ball with popsicle stick and dip in chocolate until covered. Place into cake pop stand and refrigerate for one hour. Enjoy!
Nutrition Facts
For one cake pop: 150 calories, 9.1 g fat, 16.7 g carbohydrates, 4.2 g protein, 3.7 g fiber, 4 Points+
Points values are calculated by Snack Girl and are provided for information only. See all Snack Girl Recipes
$19.95 $17.42 Buy on Amazon.com
As an Amazon Associate, I earn from qualifying purchases.
---
$8.05 ($0.05 / Count) Buy on Amazon.com
---
Want to read about snacks?
French Onion Dip With Zero Guilt
How Important Is It To Buy Organic?
Eat Less Meat And Dairy With These Vegan Snacks
Wow Your Friends This Memorial Day With Salad Sticks
---
Get Free Email Updates! Yes please!
---