A Delicious Almost Zero Calorie Snack (Really!)
When you look at those mushrooms up there do you think they are covered in olive oil? Yes?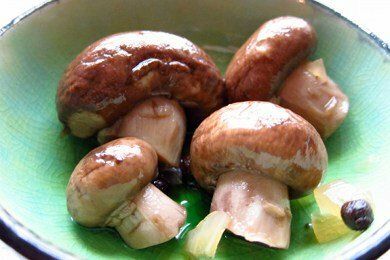 Well, do I have a trick for you! I happen to love marinated mushrooms soaked in olive oil, but I decided to see if I could create a less calorific version.
My inspiration is a book called "The Joy of Pickling" by Linda Ziedrich and my own pickled carrot excursion which turned out great (see: How To Avoid Wasting Carrots).
Pickling is a way to preserve food using vinegar and salt, and it creates a wonderful strong flavor for vegetables. Mushrooms are low in calories - only 100 calories in an entire pound of mushrooms - and are a good source of B vitamins.
What is fun about pickling is that you get something kinda gourmet for very little work. Also, you don't have to worry about the food going bad in your refrigerator before you get a chance to eat it!
I would serve these mushrooms with toothpicks, on a cracker, or sliced like a pickle on a sandwich. They have an earthy, spicy, salty, and strong flavor.
You don't need pint jars to make this work, any container will do. And, you don't have to can them (no heating or sealing required). Because there is enough acid in the liquid, no bacteria is going to be able to grow on your mushrooms.
Also, if you can't find (or don't have) allspice berries - I wouldn't worry about it. The peppercorns are going to do a great job flavoring this mixture.
Linda's book has a bunch of other easy recipes for home pickling. Many of the recipes do not require canning.
I like the looks of "Moroccan Pickled Beets" and "Quick Pickled Jicama" (haven't got around to trying them yet).
Have you tried pickling? Please share.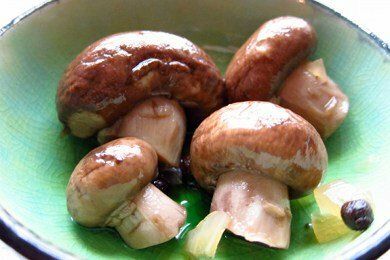 Polish Pickled Mushrooms
reprinted with permission from "The Joy of Pickling" by Linda Ziedrich, Harvard Common Press, ISBN 978-1-55832-375-9.
(makes 1 pint or 8 servings)
1 pound mushrooms
1/2 cup chopped onion
2 Mediterranean bay leaves
2 teaspoons whole black peppercorns
1 teaspoon allspice berries
2 teaspoons pickling salt
1/2 cup water
1/4 cup white wine vinegar

Ingredients
1. Combine all of the ingredients in a nonreactive saucepan. Bring them to a boil, reduce the heat, and simmer them for 15 minutes.
2. Put the mushrooms and their liquid into a pint jar. Let the jar cool, then cap it. Store the jar in the refrigerator for several days before eating the mushrooms.
3. Refrigerated, the mushrooms will keep for about 3 weeks.
Instructions
for one serving = 19 calories, 0.2 g fat, 3.1 g carbohydrates, 1.9 g protein, 0.9 g fiber, 484 mg sodium, 0 Points+
Points values are calculated by Snack Girl and are provided for information only. See all Snack Girl Recipes
$18.95 $17.99 Buy on Amazon.com
As an Amazon Associate, I earn from qualifying purchases.
---
Want to read about snacks?
Fab Snack Finds For Keeping It Fun
Mix Up These Healthier Corn Muffins In A Jiffy
Five Restaurant Tips For People Who Love Food
The Secret To Making Chicken Breast Taste Much Better Than A Hockey Puck
---
Get Free Email Updates! Yes please!
---