A Green Way to Replace Soda
Last week, Snack Girl wrote a post about naturally flavored seltzer and a bunch of people shared their favorite "soda-fix".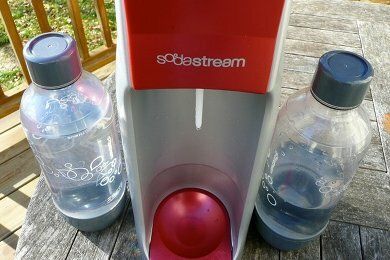 From Nancy:
Buy a SodaStream and get their MyWater flavors (unsweetened, natural flavors). The kids love to "make" the water, there's no cans or bottles to deal with, stuff doesn't go flat because you make it as you use it and it's much more economical.
And, Melissa, Donna, and Shannon chimed in! And, now I am going to contribute because I own one of these bad boys.
This photo above is of my SodaStream that I purchased over three years go. It is so GREEN. It costs about 30 cents a liter, and there are ZERO trips to the recycling station.
The SodaStream uses tap water that I filter and it tastes great. I can adjust how bubbly I want my water, and I use only what I need. No more leftover half bottles of flat water!
AND, they do have natural flavors with zero calories to add the the water so you can make you own flavored seltzer see: MyWater Flavor Essences.
You can always grab some fresh lemon or lime to add a little flavor.
SodaStream is giving away a Start Up Kit to one of my readers (worth $100).
There is one catch. If you continue to use it, you will have to buy refills for the CO2 tank - they cost $30 and will fill 110 liters of water. I use mine for about 3-4 months (but I drink ALOT of the stuff). Exchanging the tanks is super easy and the customer service has been excellent so far.
To enter comment below on your favorite route to conquering soda cravings.
---
What will I win?
A Fountain Jet Soda Lover's Start-Up Kit (approx. $100 retail value). It includes the winner's choice of black/silver, white or red/silver Fountain Jet, CO2 to make over 100 liters of soda, 2 reusable carbonating bottles, a sample pack of flavors, and 3 full-sized flavors of the winner's choice.
How do I enter?
Comment below on your favorite route to conquering soda cravings.
Additional Ways To Enter:

Follow Snack-Girl on FaceBook. Comment on the FB page on your how you conquer soda cravings.

Follow Snack-Girl on Twitter and Tweet this post (use the Tweet Button in the Share Box at the top of this post).

Snack-Girl can follow and count all the additional entries using magical website tools.
Am I eligible to enter?
This giveaway is offered to US residents only.
When do I find out if I am the winner?
The winner will be announced on August 10th, 2011. You will have 2 weeks to e-mail us back with your home address so we can mail the prize.
---
$89.99 $78.00 Buy on Amazon.com
As an Amazon Associate, I earn from qualifying purchases.
---
Want to read about snacks?
Agave Nectar: of Gods or of Hype?
Starbucks Bistro Box: A Grab and Go Under 500 Calorie Lunch
Chill Out With Some Watermelon Tomato Soup
Makeover The Best Selling Salad Dressing In America