The Healthiest Cracker On The Planet
How would you like a cracker that just oozes health? A cracker that makes you think, "Hey, this is really good for me!!"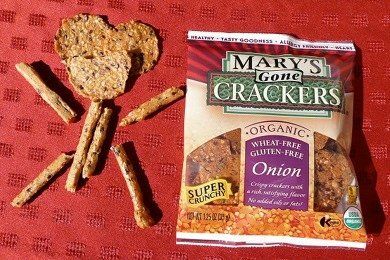 Mary's Gone Crackers are truly a revelation. They have absolutely nothing in them (if you read their packaging):
Wheat-Free
Gluten-Fee
No added oils or fats
No pesticides (organic)
non-GMO
Vegan
Are they nuts? Who is going to eat this?
Well, it turns out that there are people who are allergic to wheat and gluten that still love crackers. The founder of Mary's Gone Crackers, Mary, had a problem:

In 1994, I discovered that my lifelong battle with digestive pain and fatigue had been caused by an inability to digest gluten-a protein found in wheat, barley, rye and most oats. Once I eliminated those grains from my diet, the symptoms I had struggled with disappeared.
But, then, what could she eat? The major staple of the United States is bread! So, she developed her own line of crackers. The ingredients include whole grain brown rice, quinoa, sesame seeds, flax seeds, and other all-natural flavoring agents.
They are super crunchy like Doctor Kracker and unlike Ritz Crackers. When I first tried them, I didn't like them at all and thought that they tasted like bird seed (not that I have tried bird seed). But the smart people at Mary's Gone sent me an entire case.
As I got used to them, I started to really enjoy their nutty taste (without any nuts). These crackers are just a bunch of good stuff mush together and baked without added sugar (but there is added salt).
I noticed that after you eat about 10 of them, you aren't hungry any more. This is probably due to the fact that you REALLY have to chew these babies. You definitely know you are eating something when you eat a Mary's Gone cracker.
So, give them a try. This is their store locator: Mary's Gone Crackers Store Locator and it seems they are at Whole Foods and other health stores. They were not at my local Stop-n-Shop.
You can also buy them at Amazon. You have to commit to 12 boxes, so you might want to make sure you like them first. But, the price is comparable to other premium crackers when you buy them online.
This product was received for review consideration. No other compensation was provided.
---
$8.40 ($1.53 / Ounce) Buy on Amazon.com
As an Amazon Associate I earn from qualifying purchases.
---
What is your favorite healthy cracker?
Want to read about snacks?
SUBWAY Veggie Delight: FAST But Fresh and Healthy?
Olive Tapenade from Clean Food Cookbook
3 Reasons to Avoid Ritz Crackers
One Sweet Reason To Avoid Artificial Sweeteners