A Healthy Choice at McDonald's
Snack Girl is probably the last person on the planet to discover that McDonald's has yummy salads. I don't get out much.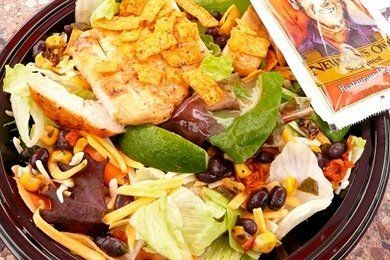 I avoid McDonald's because the food gives me a stomach ache (I am not making this up). But, recently, I drove from Massachusetts to Chicago, IL (see here: Challenge: Week 3 and found myself looking for healthy food on the New York State Thruway.
What to do? I was in a big hurry so I hadn't filled my car with excellent Top Travel Snacks, so I just stopped at McDonald's and stared at the menu. Then, Super Snack Girl started interrogating the poor teenager behind the counter.
Do they ship you the salads or do you make them here? We mix them here.
Are they made with iceberg lettuce? They are made with mixed greens - there may be some iceberg but there is other lettuce types included.
Is the dressing on the side? Yes, it is.
How many calories are in them? Calorie information is posted on the wall.

Turns out you can order the salad EXACTLY the way you want it. And their website allows you to customize your calorie choices The Southwest Salad section of their site has a nutrition box where you can change the ingredients in your salad to get it to an optimal calorie amount.
It seems that McDonald's has been listening to the healthy eaters out there. So, I had a Southwest Salad, but I didn't eat 420 calories. I ate 220 calories because I only ate 1/2 the chicken, used 1/2 the dressing (they give you a LIME - WOW!), avoided the tortilla strips and the cheese (both yucky).
Next time, I would order it without the tortilla strips and the cheese because they were unnecessary.
It cost $5 and versus a Big Mac, french fries, and a large Coke (also $5), I reduced my calorie intake by 1000 or so. It tasted pretty good - and no stomach ache! Of course, I had to stop to eat it (no forking salad in my mouth when driving a standard), but that was fine.
These big corporations - McDonald's, Nabisco, Kraft, Frito-Lay, etc. are the food manufacturers we rely on for most of our food. Do I want to eat from local farmers all the time? Yes, but is that realistic? No.
It makes me happy that the entire way to Chicago, I could find fresh food. I found a tasty apple at the next rest stop, trail mix, and sparkling water. I managed not to eat a hamburger for a 15 hour drive across New York, Pennsylvania, Ohio, Indiana, and Illinois. I am seriously amazed.
We have the makings of a food revolution in if McD's can make money selling salads. That means enough of us out there are demanding healthier choices.
What do you eat while traveling? Have you tried a McD's salad?
Want to read about snacks?
Potato Chip CRUNCH For One Calorie
Healthy Beach Snacks
Snack Girl Recharges Her Batteries
What NOT To Have For Breakfast