A Drink for Super Heroes
Do you like to soar through the sky with your cape flapping? I do! Snack Girl has a cape and she jumps from her bed often to feel the rush - as she screams "Snack Girl to the RESCUE!!!"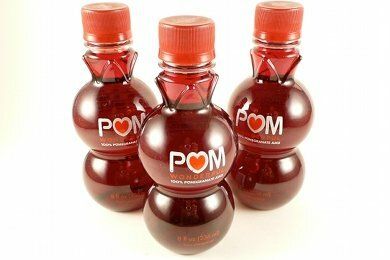 If I WAS a super hero, I would drink POM Wonderful. Check out that bottle! It belongs on the space shuttle, and it will be going to Mars some time soon.
Right about now, I have to do a disclosure. I have a good friend who worked directly for Linda Resnick, creator of POM Wonderful, and (in my opinion) she ain't so wonderful so I am inclined to HATE this drink. But, I am a professional snack reviewer so I will put my animosity aside.
BUT, not before, I point out that Ms. Resnick has authored a book (see below) entitled, "Rubies in the Orchard: The POM Queen's Secrets to Marketing Just About Anything". She calls herself a Queen (a teeny weeny bit crazy, no?).
This does COLOR how we see her product. Is this just a marketing blitz (and one to be admired)? or is this stuff really a drink that will end all your problems?
POM Wonderful is pomegranate juice. It has more sugar per serving than soda (like other juices) and is much better for you than Minute Maid Juice.
It is 100% juice, which is a good thing. It tastes much like cranberry juice and I found it to taste better when mixed with other juice or Sparkling Water.
It's claim to fame is that it has more polyphenols per ounce than red wine. Polyphenols are plant compounds found in high concentration in skins of Blueberries and Grapes. Polyphenols have been shown to be super good for you (prevent cancer, clear arteries, etc.)
So, you can drink POM Wonderful and get a concentrated amount of polyphenols (with all the sugar) or you can just eat pomegranate seeds, blueberries, grapes, vegetables, drink coffee, red wine, etc.
It costs about $3 for an 8 ounce bottle - which is a lot when you consider what 100% apple juice costs for 8 ounces (around a $1). But, apple juice has less polyphenols - maybe apple cider has more (more peel involved).
Anyway, I made a drink with the juice I received from POM (they sent me a whole case). I liked it mixed with sparkling wine and orange juice. Today IS Friday, so I thought I would share a special weekend treat.
I have included a link to a champagne stopper. It is really easy to just have one glass of sparkling wine and save the bottle for another time. It is simple to use - and some of my friends didn't know about them so I thought I would share. You DO NOT have to drink the entire bottle after you open it.
My conclusion: POM is a nice treat. It is too expensive for me to buy on a weekly basis, so I will save it for special occasions.
This product was received for review consideration. No other compensation was provided.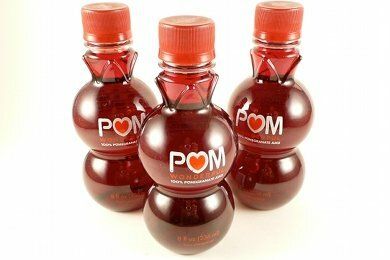 POM Wonderful Mimosa
(serves 1)
Bottle of sparkling wine (not the good stuff)
Orange juice (preferably fresh squeezed or Odwalla)
1 bottle POM Wonderful
In a champagne glass, pour 1/2 glass sparkling wine and 1/2 orange juice. Add 2 tablespoons of POM Wonderful for color and flavor. Adjust to your taste.
Points values are calculated by Snack Girl and are provided for information only. See all Snack Girl Recipes
What do you think of POM Wonderful?"
---
$16.00 Buy on Amazon.com
As an Amazon Associate, I earn from qualifying purchases.
---
Want to read about snacks?
Banana Quesadilla: A Delicious After-Exercise Snack
Stuff It! (I'm Talking About Mushrooms, Of Course)
Turn Cauliflower into YUMMYflower
This "Juice" Has HFCS and More Sugar Per Serving Than Soda
---
Get Free Email Updates! Yes please!
---