Need Some Comfort? Give Spaghetti Squash Casserole A Try
After my successful post on spaghetti squash, I realized I had been missing out.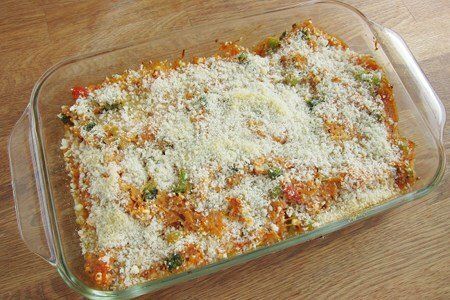 There were over 50 comments praising spaghetti squash and I still didn't like the stuff. My husband ate all that I made for the post and asked me when I was getting more.
Do I look like I have time to run out and buy squash?
It turns out that I did have time because I decided to make it in a casserole as many had suggested. Perhaps, I would start to dig it if I added cheese and sauce.
I bought some more at my local supermarket ($1.49 per pound) and cooked it in the microwave. Then I used it like a pasta with marinara sauce and some cottage cheese. You could use ricotta if you have it (I didn't).
Then I added some bread crumbs. This is why: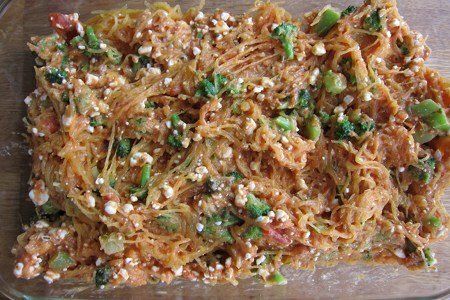 As I was working on this, the same husband who asked for spaghetti squash said, "That looks like puke." THANK YOU!
I do think it is nice to have a layer of crunchy on the casserole so I added breadcrumbs to make it look more appetizing. I think it works.
This is really good. Much better than plain spaghetti squash and much lower in calories than a pasta casserole. You can serve it as a side or the main dish and I found that I only liked it hot.
Have you made a spaghetti squash casserole? Please share.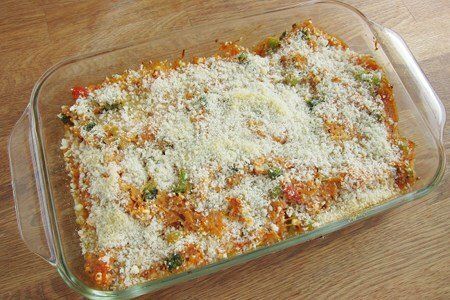 Spaghetti Squash Casserole
Makes 6 side dish servings or four main dish servings
Ingredients
5 cups cooked spaghetti squash (see note)
2 cups frozen broccoli, chopped (not thawed)
1 1/2 cups marinara sauce
2 teaspoons dried oregano
1/2 cup cottage cheese, 2% milkfat
1/4 cup bread crumbs
Instructions
Preheat oven to 350 F. Mix spaghetti squash, broccoli, marinara sauce, oregano, and cottage cheese in a large bowl. Spread the mixture into a small casserole and top with bread crumbs. Bake for 15 minutes or until heated through and the bread crumbs are browned. Enjoy.
Note: Poke squash all over with a fork. Heat in microwave on high for 5-8 minutes. When the squash is sunken and soft it is done. Scrape out seeds and using fork pull out strands of squash.
Nutrition Facts
For one side dish serving: 124 calories, 2.9 g fat, 0.8 g saturated fat, 20.0 g carbohydrates, 6.4 g sugar, 5.7 g protein, 2.6 g fiber, 388 mg sodium, 3 Points+
Points values are calculated by Snack Girl and are provided for information only. See all Snack Girl Recipes
Other posts you might like:
---

Want your pasta to be zero calories and still taste like pasta? Maybe I have found a solution....
---

Anyone else missing summer? I spend way too much of my time surfing for travel deals to warm places....
---
---
Get Free Email Updates! Yes please!
---