The Breakfast of Champions (Seriously Healthy Champions)
Breakfast is a meal that many of us struggle with. How do we eat healthy when we are trying to get to work or school?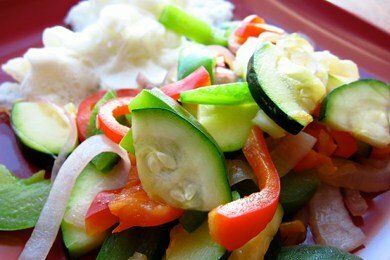 Last week, I was really sad about the new Starbucks' chicken sausage, egg white, and roasted veggie wrap. I was so bummed in fact - that I tried to make something similar.
You see, the best FAST breakfasts are planned ahead (the night before perhaps) and they involve vegetables. We don't get anywhere near our 5-7 servings of vegetables and fruits per day - so we need to be vigilant and start the day right.
The American breakfast is famously devoid of vegetables and fruit. Eggs, hash browns, toast, sausage, bacon, pancakes.......aaah!! This breakfast seems to come from our farmer roots. If you are a farmer and need a lot of calories - this is the breakfast for you - but, if you are a desk jockey like me - this breakfast is going to end up on your hips.
I sliced up my veggies and got stir frying. It is important to have a LARGE fry pan or wok to hold all your veggies. See here: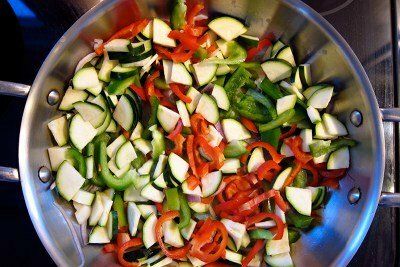 Doesn't that look beautiful? And it smelled SO good. I didn't add any spices, but you could. Ginger, soy sauce, salt, pepper, etc. would be great. I just let the veggies cook a bit, made an egg white omelet and enjoyed.
I DID add this Chipotle Tabasco sauce that I found in the supermarket and some whole wheat toast. My husband walked by as I dug in and said, "Hey, that looks delicious." Why, yes it does and I am not sharing :)
The recipe yields 4 servings of breakfast veggies and I could share if I was feeling generous. If I cook something like this and leave it in the fridge - I find that it is gone before I know it. Everyone likes to jump on the healthy train if I do the work.
How do you incorporate veggies in your breakfast?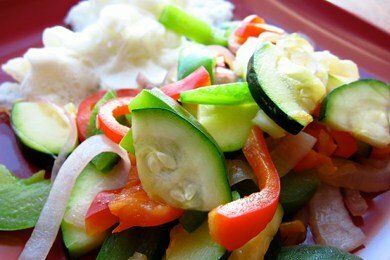 Egg White Omelet and Stir Fry Veggie Recipe

(vegetable stir fry for four breakfasts)

Ingredients
1/2 red onion, sliced
1 red bell pepper, chopped
1 green bell pepper, chopped
1 zucchini
1 tablespoon olive oil

2 egg whites (for omelet)

Instructions
Scrub zucchini and slice in half, lengthwise. Slice in half lengthwise again and slice. Heat large skillet on medium high heat and add oil. Add onion and cook until soften. Add red bell pepper, green bell pepper, and zucchini and cook (stirring often) until you achieve your desired tenderness of veggies. Mine take about 10 minutes.
Spray an omelet pan (or small fry pan) with nonstick spray. Heat over medium heat, add egg whites. Cook until cooked through - about 2 minutes.
Nutrition Facts
For one cup of veggies and two egg whites = 93 calories, 3.8 g fat, 7.0 g carbohydrates, 8.5 g protein, 2.0 g fiber, 117 mg sodium, 2 Points+
Points values are calculated by Snack Girl and are provided for information only. See all Snack Girl Recipes
Other posts you might like:
---

Snack Girl has a confession to make. She has snuck in lots of breakfast ideas on her "snack" website....
---

Snack Girl had some nutritionists help her come up with the Healthy or Crappy Cereal Test to help readers decide which cereal is best for breakfast.
---
---
Get Free Email Updates! Yes please!
---