The Odwalla Smoothie Dilemma
What could be wrong about an entire mango in a bottle of juice? What if there was no added sugar but just non-GMO fruit mixed in a bottle for your healthy consumption?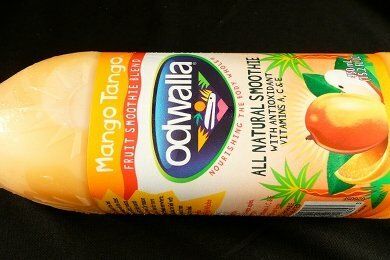 My kids go nuts for this flavor of Odwalla smoothie: Mango Tango. I bought this bottle for $3 (yikes) at my local supermarket because a reader asked me what I thought of these.
Well, they taste great, they are made with fruit purees and juice (no concentrated juice) and they are chock full of vitamins. This bottle contains 100% of your daily value of vitamin E, 50% of vitamin C, and 25% of your vitamin A.
So, compared to something like Soda, you are doing great! Soda has a bunch of sugar and no nutrients. Odwalla has a bunch of sugar and lots of nutrients.
Odwalla is actually owned by The Coca-Cola Company. I guess the Odwalla branch "nourishes the body whole", while the Coke branch rots teeth. I wonder what their meetings are like?
This Odwalla smoothie has more sugar per serving than Coke. Yes, it is the same as Minute Maid Juice or apple juice - 45 grams of sugar for a 12 ounce serving. Coke has 39 grams of sugar per 12 ounce serving.
The dilemma with juice is that it's processed fruit. The sugar in a Mango is locked up with all this fiber and water. A Mango has 3 grams of fiber in one cup. How many grams of fiber in Mango Tango?
The package says "Not a significant source of dietary fiber". Where did it go? The fiber got lost in the processing of the mango into juice. No fiber is a problem.
Dietary fiber makes you feel full. This "smoothie" form of mango isn't going to make you feel full, and so the calories (while not empty) aren't great for us who have a problem keeping off the pounds.
What to do? I say treat these as a treat! Use them to replace soda or ice cream because they are better for you than those choices. Do not treat them like water or a snack that will fill you up.
At my house, that one bottle of smoothie got spread over 2 days of treats.
Substitute Cucumber Orange Water for your smoothie habit or make your own for fewer calories like my Chocolate Smoothie.
Do you buy packaged smoothies? What do you think of them?
Want to read about snacks?
Turn Your Dull Toast into a Terrific Snack
What TO Have for Breakfast
Challenge is Half Done: How are We Doing?
63 Calories of Salty, Sweet, Sour, Spicy and Veggie Goodness for a Dime