Winner of SodaStream and New Snack Bag Giveaway
The WINNER of the SodaStream is Katie (via random selection). I asked people to share tips on how to avoid soda - and here is Katie's: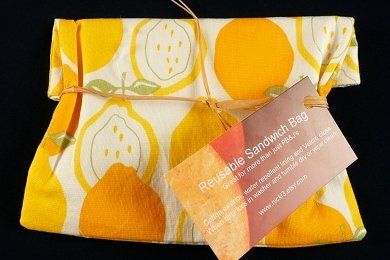 "I use a product called True Lemon to help me avoid soda! It actually comes in True Lime and True Orange as well - just add a packet to jazz up regular water!"
It sounds great! I will find some to review for Snack-Girl.
New Snack Bag Giveaway
I really love promoting small businesses because I am one! Nicki at her Etsy Shop:
has a wonderful profile:
We see things differently... We see a greener future for our Kids. We see cleaner lakes to swim in. We see grass that is free of chemicals. We see fabric that has not been sprayed or treated. We want to see the future! I have been sewing for a while and enjoy creating things you will not find in the mall! I love it when someone stops me and admires my own kid's clothes that I have made and I thought I would share that with others.
Please share your favorite holiday tradition below for a chance at winning this cool snack bag.
---
What will I win?
The reusable snack bag photographed here from: Naturally Adorable
How do I enter?
There are 3 ways to enter (and you can enter three times) A comment here is one entry and sufficient for the contest:
Comment in the box below about your favorite holiday tradition AND
Tweet this post. Please use the Tweet Button in the Share Box above or go on your profile on Twitter. Make sure that you use @Snack_Girl_ so that I know you tweeted and can count your entry. AND
Become a friend of Snack-Girl on Facebook. Here is our link: Snack-Girl on Facebook Please be sure to comment here first so I can keep track of your entry on FB.
Am I eligible to enter?
Anyone with a valid e-mail and a U.S. mailing address is eligible.
When do I find out if I am the winner?
The winner will be announced on December 23rd. You will have 2 weeks to e-mail us back with your home address so we can mail the prize.
---
Want to read about snacks?
How to Replace Butter without Sacrificing Flavor
How to Eat More Vegetables
How to Survive Holiday Parties
Quick and Healthy Pizza