Denny's Maple Bacon Sundae
Last week, I featured a healthy bacon recipe - Who Else Wants Bacon? and read comments about a maple bacon sundae at Denny's.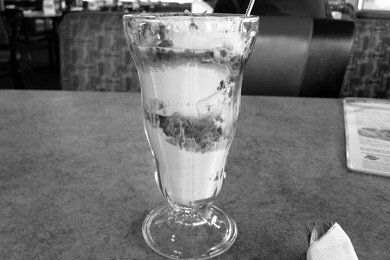 Ummm, really?
I decided to visit my nearest Denny's and I ordered the maple bacon sundae. Before I visited, I called Denny's to get the nutritional information on this dish - but, they didn't call me back.
So, then I e-mailed, tweeted, and commented on their FaceBook page - and then I decided to call them again. PERSISTENCE is my middle name.
sounds kinda nice Snack Persistence Girl :)
And, guess what? They gave it to me!
The Denny's "Maple Bacon Sundae" nutritional information:
810 calories, 40g fat, 97g carbohydrates, 16g protein, 0g fiber, 460mg sodium, 22 Points+
For those of you who don't use Weight Watchers, I currently am allotted 29 Points per day. That means I could have breakfast and this sundae and be finished eating for the day.
Denny! We need to talk. I don't know if you have noticed, but ONE out of every THREE Americans is overweight or obese. And, your menu has only TWO "FitFare" options that I could see when I visited.
And, not to point out anything you don't already know, but your stock has FLATLINED for the last five years. McDonald's, meanwhile, is killing it.
Do yourself, employees, and shareholders a favor and WAKE UP!
Would it kill you to serve fresh fruit, more than one or two fresh salads, and have an entire "FitFare" menu? You already serve turkey bacon, egg whites, and Amy's veggie burgers!
Denny, you have to change. Seriously.
You know what, if Denny's served a version of the "maple bacon sundae" that was 1/4 the serving size, I would go back and order it. That was the portion that I consumed and I actually enjoyed the crunchy, salty, sweet, and creamy concoction. It works!
What else worked? The waitress was SO friendly and nice to me. I actually feel bad writing about this sundae after she was so kind.
But, the FDA has proposed rules for calorie labels for fast food chains - and Denny's will have to post these calorie numbers in their menu. I think that when customers realize how many calories are in this food, they are going to avoid it.
I might be wrong, but the "Eat This Not That" series of books are best sellers because the author dug up these important numbers and shared them with his readers (see below).
The winds of change are blowing and Denny's needs to hoist its sail.
(sorry for the silly metaphor - I couldn't help myself)
Please comment on the maple bacon sundae.
---
$19.99 $8.99 Buy on Amazon.com
As an Amazon Associate I earn from qualifying purchases.
---
Want to read about snacks?
Sugar Free Gum Without Artificial Sweeteners or Colors? It Exists!
What Nutella Leaves Out of Its Commercials
Give Me Three Ingredients and I'll Give You Amazing Salsa
Now You Can Eat A Banana Split Without Splitting Your Pants