Replace Mayo With This Healthy Spread
Seems like it is time to take on mayonnaise. I love the stuff, but when you start adding it to sandwiches, the calories sky rocket.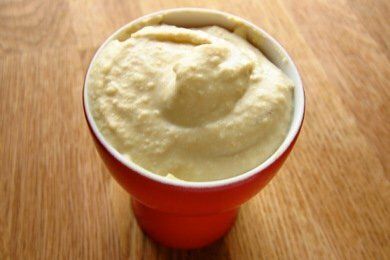 A tablespoon of mayonnaise sets you back 90 calories!! While it tastes really good, it is because you are adding fat to your sandwich and nothing else.
Is there another spread that has nutritional value and tastes good? How about hummus?
Back in April, I promised a hummus recipe in this post: A Rare Find: A Packaged Food that is Healthy and Delicious!. Here we are in October, and I have finally gotten around to making my own hummus.
It is a mere 27 calories per tablespoon and it is made with beans. And you get fiber, Iron, and Vitamin C with those calories. Usually, I buy packages of hummus and use it for my sandwiches at lunch. My kids also like hummus sandwiches in their lunch box.
Why make your own hummus?
First of all, you are going to save money. Those packages of hummus are a rip-off when you realize how inexpensive the ingredients are (beans, tahini, oil). My homemade hummus was about half the price of packaged hummus and, guess what? it tasted better.
Rev up your blenders because you can freeze hummus for a later day saving yourself both TIME and MONEY.
The best part is you can make it the consistency and taste that you prefer. Do you enjoy garlic? Add more! Do you like it creamy like mayonnaise? Add more cooking liquid or water. Do you like it spicy? Add a jalapeno.
I made my hummus with this basic recipe below. Chickpeas are also called Garbanzo beans and are found with other canned beans. I found the tahini (which is ground sesame paste) in the "natural foods" section of my grocery store.
After I added the ingredients, I tasted the hummus. I kept adding stuff and tasting until I decided it was delicious. My family agreed with me! (except my daughter who didn't like the garlic - oh well).
Please share your hummus ideas and recipes.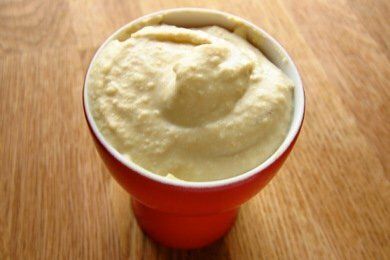 Hummus Recipe
(makes 8 servings)
Ingredients
2 cans chickpeas, drained, liquid reserved
1 or 2 garlic cloves
1/4 cup olive oil
1/4 cup tahini
1/2 lemon
salt and pepper to taste
Instructions
Put chickpeas and 1/2 cooking liquid (or water) in food processor or blender. Add garlic, olive oil, tahini, and squeeze the lemon over the machine. Blend until smooth and adjust flavors.
Nutrition Facts
117 calories, 12.5 g fat, 19.1 g carbohydrates, 6.5 g protein, 6.8 g fiber, 325 mg sodium, 5 Points+
Points values are calculated by Snack Girl and are provided for information only. See all Snack Girl Recipes
Other posts you might like:
---

Halloween is almost here and Snack Girl continues on her mission to convince you that a healthy Halloween is possible....
---

Before Jillian Michaels, Jane Fonda, and Zumba there was Jack LaLanne. He presented fitness and exercise advice on TV for 34 years!...
---

Recently, a reader sent me a strange message about Almond Breeze. She wrote that it had CHANGED HER LIFE!...
---

Snack Girl's ears perk up when she hears inspiring weight loss stories. I overheard Ashley chatting with someone else about losing 40 pounds and I just HAD to learn more....
---
---
Get Free Email Updates! Yes please!
---