A Great Choice in Frozen Pizza
Pizza can be a great snack. Snack-Girl has featured Mini Mini Pizzas and English Muffin Pizza as a way to get your pizza fix for less calories.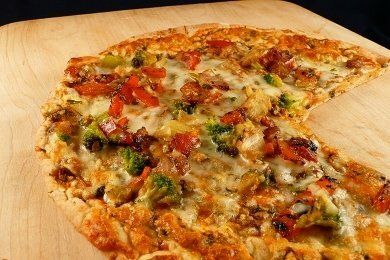 What about frozen pizzas? I suggested putting extra vegetables on a regular frozen pizza to bring up its nutrition content see: Pizza With Vegetables
And then, Kim, asked me about Kashi Roasted Vegetable Pizza. I had reviewed Kashi Crackers and was a bit skeptical that they could BRING it when it came to pizza - but I have been surprised!
But, first, I had to find the find it! I had to REALLY search for this pizza in my Stop-N-Shop. It seems that THESE frozen pizzas are in the "Natural Foods" section (aren't all foods natural??) - and not with the other frozen pizzas.
There is A LOT to like. A whole grain crust (first ingredient), cheese, vegetables, tomato sauce, salt, and a little sugar. There is 4 grams of fiber and 19 grams of protein!
The down side - 26% of your daily allowance of sodium - is to be expected when dealing with a processed food.
It is vegetarian, and, for a frozen pizza, delicious! I think frozen pizzas are expensive ($5), but I am going to buy a few to put in my fridge when we hit a cooking wall.
Almost everything with food is relative. The best healthy snack is an apple (truly) and I would not compare Kashi Frozen Vegetable Pizza to an apple - but I would use it in a pinch when I need a quick lunch, dinner, or snack when I was out of apples.
It is MUCH better than Evil Pizza, and a healthy choice. Probably once a week is okay for this product as opposed to a fast food burger (which should be about once a month).
Given the realities of our daily lives, stuff like this can be helpful. Kashi has some other flavors of this "Stone-Fired Thin Crust" - I haven't tried them. I try to stick to pizza with lots of vegetables on it.
Please share your favorite healthy pizza ideas.
Want to read about snacks?
A Rare Find: A Packaged Food that is Healthy and Delicious!
What Everyone Needs to Know About Tostitos
Love Ice Cream? Try This 130 Calorie Makeover