Top Ten Gluten Free Snacks
This photo made me giggle. Yes, a sign usually reserved for construction sites is on bread.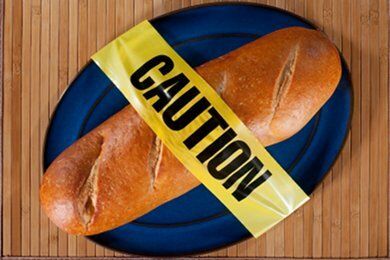 Many people have started following a gluten-free diet because they find that they can't tolerate gluten or are allergic to it. Also, some bread tastes a bit like concrete so this sign clearly makes sense.
In case you didn't know, gluten is a protein found in wheat, barley, rye, kamut, and spelt. Gluten is also a food additive and can be hidden under the names "maltodextrine" and "dextrine".
Why are so many people choosing gluten free? I think that people feel better when they don't eat the many processed foods that use gluten.
Think about it. Start your day without toast or a donut, then don't eat a sandwich for lunch, and then skip the pizza for dinner. So, what did you eat?
You probably made much better choices by going gluten-free. Maybe you had my yogurt, walnut, and maple syrup breakfast, a salad for lunch, and a lovely stew with carrots, potatoes, and peas for dinner.
Hey, what about your snacks? I have chosen 10 of the most popular gluten free options on Snack Girl.
1.

This Tuna Melt Is So Light & Tasty It Will Make You Cry
2.

Laughing Cow Cheese Wedges: A Little Cheese Goes a Long Way
3.

Spread It On or Dip It: The Best Yogurt Fruit Dip
4.

A Healthy Twist On An Old Favorite: The Rice Krispie Treat
5.

Elegant, Easy, and Under 100 Calories
6.

Make This Delicious Brownie And Eat It Every Day Guilt Free
7.

Good Morning Sunshine! Wake Up With This Egg Dish
8.

A 100 Calorie Pizza That Will Rock Your Sox
9.

How To Make Dark Chocolate Last Forever
10.

Turn Dull Beans Into A Potato Chip Replacement
Here is the complete list of gluten free snacks on (over 140):
Snack Girl's Gluten-Free Snacks
Have you tried going gluten-free? Please share.
---
Other posts you might like:
---

Doesn't it seem logical that oats would be gluten-free?...
---

Raise your hand if you like steamed broccoli with nothing on it! One, two.....TWO of you :)....
---