Top Ten Vegan Snacks 2011
Snack Girl thought as we headed into Turkey day that we should honor the vegans of the world with some snacks.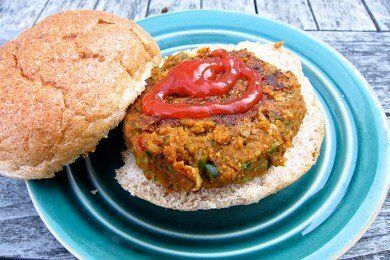 When vegans face Thanksgiving, they have quite a challenge because of the turkey, butter, cream, bacon, etc. that is used to create the typical holiday.
In case you didn't know, dietary vegans do not eat ANY animal products including eggs, milk, and anchovies. They seem to be onto something because the consumption of meat has been linked to heart disease and isn't very green.
I am not a vegan, but I am trying to decrease my meat consumption and increase my fruit and vegetable consumption. This change is better for the environment and better for my waistline - a win-win!
Here are my favorite vegan snacks that make me forget I am a meat eater:
1.

Veggie Burgers Can Be Better Than Meat Burgers (Seriously)
2.

Vegan Cupcakes Have Taken Over The World
4.

Wow Your Friends With The World's Simplest Cookie Recipe
5.

My Friends Use To Laugh At Me...And THEN I Made This Broccoli Recipe
6.

Dress Up Your Apple Slices With Cookie Dough Dip
7.

A Cookie Without Dairy or Egg (It is STILL Delicious!)
8.

Makeover Kettle Corn Into "Can Do" Corn
10.

Give the Gift of A Healthy Snack (Your Friends Won't Even Know Its Healthy!)
What are your favorite vegan snacks?
---
Other posts you might like:
---

Snack Girl listens to her readers and recently one (Danny) asked me to feature jicama. So, I decided to see if I could find it and figure out what to do with it....
---

I know what you are thinking. How can a muffin save a life? Don't we usually use things like electrified paddles?....
---