A Yummy and Healthy Cookie Under 100 Calories
One holy grail of healthy snack foods is the healthy cookie. A tasty cookie, that has natural ingredients, and won't make you fat is a beautiful thing.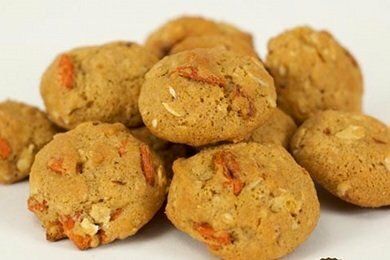 Last week, Allison, Chief Epicurean Officer of Goji Gourmet sent me some cookies. I love trying new things, especially from small businesses. With all the Krafts and Smuckers of the world, it is hard to break into the food market place.
Alison worked on Wall Street for seven years before she decided to turn to start her own business. From Goji Gourmet:
Given her love for baking, she immediately knew she wanted to create something more than a bag of berries out of this super-antioxidant, vitamin-packed, incredible berry from the Himalayan Mountains!
Yes, this woman loves baking. I can tell you first hand that her product is really delicious (and she LOVES goji berries).
One of Snack Girl's rules for baked goods is bake them yourself. Primarily because then you get the freshest, healthiest, and most delicious product. BUT, there are people who don't have time to bake for themselves. Hey, we can't ALL be like Martha Stewart :).
And these SAME people might love cookies, and be tempted in Starbucks, Subway, any convenience store, or the supermarket by packages of cookies. For them, these Goji Gourmet cookies are an excellent solution.
The first feature of these cookies is that they are bite sized. You know those humongous cookies that have 250 calories? Well, one Goji Gourmet cookie is 25 calories and that is because Allison kept the portion size small.
Secondly, the ingredient list is impeccable. Organic whole grain wheat, butter, eggs, and sugar are featured. She uses buckwheat honey which is a natural preservative so the cookies remain fresh and chewy.
Finally, she uses goji berries (which are always the second ingredient in her cookies after flour) which are packed with antioxidants. The have been called the healthiest food on earth. Take that kale! (see Goji Berry Buzz)
And, did I mention they are delicious? Two cookies (50 calories) are a great afternoon pick me up with a cup of coffee. They have a really strong flavor so you know you are eating something. My favorites are the Ginger Walnut and the Almond Oat.
Check out Allison's site: Goji Gourmet where she sells 16 - 100 calorie snack packs or $24. With shipping, you are looking at $32 or $2 per snack pack. Or you can purchase them from Goji Gourmet Distributors or from Amazon (below).
This product was received for review consideration. No other compensation was provided.
Please share your under 100 calorie baked good ideas!
---
currently unavailable Buy on Amazon.com
As an Amazon Associate, I earn from qualifying purchases.
---
Want to read about snacks?
Skinny Italian Tomato Snack Recipe
Reduced Fat Chips Can Be Delicious
How Do YOU Control Portion Size?
How To Get The Freshest Chicken Eggs