Share a Great Snack to Pack
Isn't this the cutest bag? Would you be motivated to pack a snack if you had something this cute to put it in? Not only would you be stylin' but you wouldn't use another plastic sandwich baggie.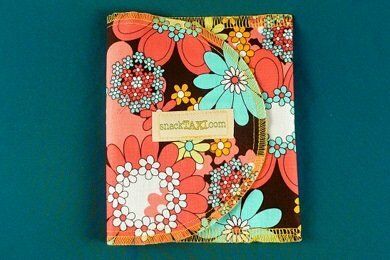 Tell us what you would put in this bag and you could win it! Please comment below or e-mail me at lisa@snack-girl.com
What would Snack Girl put in this waterproof, washable, reusable bag? A few things come to mind. How about:
Grapes
Sugar Snap Peas
Homemade Banana Bread
Almonds

Check out Snack Taxi's site if you just want to buy one:
---
What will I win?
This snack sized snack bag from Snack Taxi.
How do I enter?
Please either comment on this post below or send your entry to lisa@snack-girl.com
Am I eligible to enter?
Anyone with a valid e-mail and a U.S. mailing address is eligible.
When do I find out if I am the winner?
The winner will be announced on December 2nd. You will have 2 weeks to e-mail us back with your home address so we can mail the prize.
Hey, I want one of those and I don't want to wait to win one!
Snack Taxi Store
---
Want to read about snacks?
Quick and Healthy Pizza
How to Get What You Pay For
Fun for kids to make and eat (adults too!)
Which Favorite Snack has 35 Ingredients?