25 ideas for Healthy After-School Snacks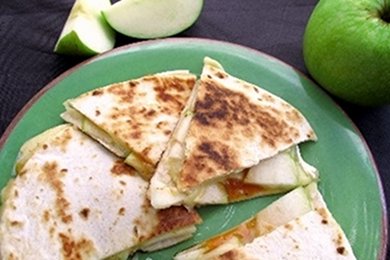 My friend, Aviva Goldfarb, is an amazing resource on healthy eating for families. She is the author of two cookbooks and the founder of The Six O'Clock Scramble®.
The "scramble" she is talking about is the one where you run in, look at the fridge, start chopping or start dialing the delivery guy. I use her service, The Scramble, to help me create 5 days of dinners for my family. You print out the recipes and a shopping list, go to the store ONCE, and you are set.
You can sign up here Scramble Sign-Up and it costs $3-$7 per month (depending on how long you subscribe for).
Aviva was kind enough to share her ideas for after-school snacks. Since she has a 12 year old, I thought it would be fun to share her ideas. From Aviva:
If she had her way most days, our 12-year-old daughter, Celia, would eat from the moment she gets home from school, straight through to dinner.
From the way she acts ("I'm staaaarrrving!"), you'd think she'd been working on the Chain Gang all day. She's nearly as tall as I am, and she's as thin as a #2 pencil, so I don't want to deny her food.
Since she'll eat almost anything during this time, I take advantage of the opportunity, and make the majority of her snacks healthy. Celia favors popcorn (fresh-popped and low-salt), cheese cubes, apples, fruit smoothies, dried apricots, and whole grain chips and salsa.
Because we eat around 7:00, I try to get the kids to stop snacking before 5 so they will have room for dinner. Sometimes I find that a piece of sugarless gum can hold them off if they still have the munchies once it's time to stop snacking.
Below is a list of some of our other favorite after-school snacks:
Plain or flavored yogurt or cottage cheese with sliced fruit and granola
Whole grain cereals or oatmeal, dry or with milk, yogurt, or raisins
Trail mix or healthy granola bars and fruit bars (look for high fiber and no trans fats)
Peanut butter sandwich with raspberry jam and cashews
Chocolate graham crackers with peanut butter
Quesadillas (melted cheese on whole wheat tortillas)
Rice cakes, plain or topped with peanut butter or cheese
Popcorn, homemade or store bought (look for brand that is low in sodium and fat)
Tortilla chips and salsa or guacamole or topped with shredded cheese and put under broiler
Muffins or breads, such as banana, pumpkin, corn, or zucchini (you can make a healthy batch and freeze them)
Mini-bagels with cream cheese and sliced cucumbers
Hummus dip with pita, crackers or veggies
Sliced avocados with wheat crackers
Hard-boiled eggs
Celery filled with cream cheese, Boursin cheese, or peanut butter
Edamame in the shell, sprinkled lightly with sea salt
Chickpeas or other beans, eaten with fingers or toothpicks
Olives, pickles, canned artichokes or hearts of palm
Frozen peas (not thawed!)
Apple slices with cheese, peanut butter, peanut butter and chocolate chips, or honey
Fruit Kabobs (Cut fruit on a stick and dipped in vanilla yogurt)
Smoothies: combine fresh and/or frozen fruit, fruit juice and yogurt or soy milk
Dried fruit such as mango, apricots, raisins, plums
Ice cream cone or waffle bowl filled with yogurt and chopped fruit
Bananas and/or strawberries with semi-sweet chocolate chips or chocolate syrup
Sometimes an after school snack can also serve as a mini meal to tide the kids (or you) over until dinner. Try these ultra-delicious Apple and Brie Quesadillas for an afternoon snack.
For younger kids, you can make the quesadillas with just the cheese and serve the apple slices on the side. These quesadillas also work well as a hot appetizer, sliced into smaller wedges.
Please share you after-school snack ideas.
print
Pin It
Apple and Brie Quesadillas with Mango Chutney
(4 servings)
4 large whole wheat tortillas
4 oz. light or traditional Brie cheese, thinly sliced
1 Granny Smith or other tart apple, cored and thinly sliced
2 Tbsp. mango chutney, Chinese duck sauce or apricot jam
Preheat two large skillets over medium to medium-low heat (alternatively, bake all the quesadillas on baking sheets at 375 degrees for 8 – 10 minutes, until they are lightly browned and crisp). (For an extra-crispy quesadilla, brush the outsides of the tortillas lightly with vegetable oil before cooking them.)
Lay one tortilla on the bottom of each pan, and top each with 1/2 of the Brie and apples. Spread one side of two more tortillas with 1 Tbsp. of the chutney, and put those tortillas on top of the tortillas in the pan, chutney side down. Let the quesadillas cook for 3 – 4 minutes per side until they start to brown, then carefully flip them and brown the second sides. Remove the quesadillas from the pan. With a pizza cutter or sharp knife, cut the quesadillas into wedges to serve.
252 calories, 8.9 g fat, 34.8 g carbohydrates, 10.1 g protein, 4.1 g fiber, 312 mg sodium, 7 Points+
Points values are calculated by Snack Girl and are provided for information only. See all Snack Girl Recipes
Want to read about snacks?
Who Else Lost Their Virginity This Month?
How Frani Lost Over 74 Pounds
Five Restaurant Tips For People Who Love Food
What You Need To Know About 50% Less Sugar And Calories In Juices
---
Get Free Email Updates! Yes please!
---