Healthy Party Snacks for Couch Potatoes
February 3, 2010
Are there magnets in your couch when you watch the Super Bowl? It seems amazing to me how long we sit and watch this spectacle. Snack-Girl will be out doing a 5K (in her mind).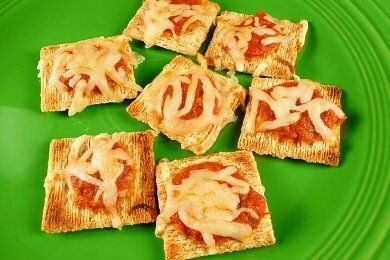 Of course, it REALLY isn't a good idea to eat and watch TV at the same time. For the Super Bowl, we can make an exception. Just try to have healthy foods on hand to over consume.
Here is a list of snacks we have featured over the last couple of months. These would all be great additions to the usual panorama of snack eating that accompanies the big game.

Veggie Shots


Mini Mini Pizzas


Yogurt Dip


Wasabi Peas: Are They a Healthy Choice?


Cheese and Crackers


Ants on a Log


Sugar Snap Peas


Edamame


Pizza With Vegetables


Hot Artichoke Dip


No Bake Brownie Balls


Toasted Tomato and Cheese


Olives

and one that isn't healthy - but is delicious:


Cheese Puffs

What will you eat while watching the Super Bowl? Please share.
Want to read about snacks?
How to Replace Butter without Sacrificing Flavor
No-Bake, Nut Butter, Oatmeal Cookie
Save Money, Calories, and the Environment with this Yogurt
Quick and Healthy Pizza