Top Ten Best Travel Snacks For The Road
Why is this baby upset? He is about to join the 42 million Americans that will travel for Thanksgiving.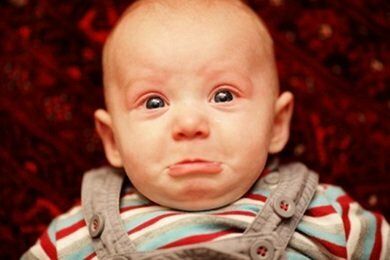 (and he has a wet diaper)
Yes, we are back at this time of year and it is time to REV up your engines. If you are lucky, you can take a bus, train, or airplane to your destination instead of sitting in a car for hours on end.
Many of us will be behind the wheel on the way to Grandma's house and the temptation to stop at fast food spots will be unbearable. Save up those calories for pecan pie and pack some healthy snacks!
What do I recommend? Make sure you bring something you will eat as opposed to something that you think you should eat. After driving by 50 McDonald's, Burger Kings, Starbucks, etc., you will lose your will power UNLESS you have packed something you love.
Here are my top travel snacks for the road divided into two categories. Things you make before you go if you have time and healthy snacks you can buy.
To make:
1.

A Grab 'N Go Breakfast With ZERO Added Sugar (and you will love it)
2.

Save Money, Calories, and the Environment with this Yogurt
3.

The Cheapest And Healthiest Snack In The Snack Aisle
4.

Wow Your Friends With The World's Simplest Cookie Recipe
To buy:
5.

Need Some Intense Dark Twilight Delight?
6.

A Magical and Healthy Packaged Snack
7.

A Healthy Packaged Snack For Your Lunch Box
8.

The Benefits of Cheese Sticks
9.

A Nutritious, Nutty, and Chocolately 100 Calorie Snack
10. Try some of my favorite bars - gnu bars, KIND, and LARABAR.
What do you pack for road trips?
---
Other posts you might like:
---

Snack Girl is probably the last person on the planet to discover that McDonald's has yummy salads. I don't get out much....
---

These 25 ideas for healthy after-school snacks will stop you from scratching your head when your kids run in the door.
---